You have a loop or some beats, but you want to know the tempo of them in BPM (beats per minute)? That is very easy to calculate in Cubase/Nuendo.
I've come to realize, every
ProTools dude
starts explaining how easy it is with "Beat Detective" whenever they are asked, and have no idea if any solution exists on any other platform or a sequencer. Let's enlighten, then :)
1- Import the audio into the project window that you want to calculate the tempo of (
File > Import > Audio File
).
2a- If this clip is a properly cut loop from its beginning and end points, choose the
Event
(Audio clip that you've just imported) by clicking on it and then press "P" (computer keyboard). This keyboard shortcut will highlight the region between the start and the end section of the loop
2b- If audio file/clip (or "Event") is not a loop pick up the
Range Selection Tool

and in order to make a precise calculation, zoom in to the beginning of the audio (preferably to the beginning of a
measure
) and put the cursor to the place where you can see big transient jumps) with a mouse click. Then drag the mouse to the end of the measure.
If the beginning and end points of the measure are obvious (they are, when percussive instruments involved), the calculation will be pretty much precise.
3- Count how many
beats
there are in the selected region (by listening :).
More beats are chosen, more precise the calculation will be.
I say choose 2 measures/turns for this example.
4- Go to:
Project > Beat Calculator
menu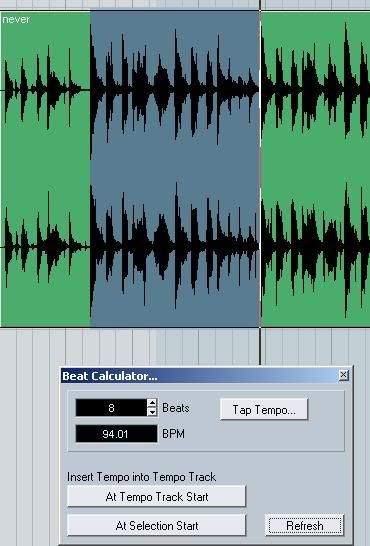 and set the number in the box
"Beats"
as 8 (If you have chosen 2 X 4/4 measures with the range selection tool as I did)
You'll see the calculated BPM tempo of the audio material. With every new selection you do, just click "Refresh" without leaving the menu.
If you want to apply the tempo of the audio material to your project, click
Insert Tempo into Tempo Track
options.
While the option "
At Tempo Track Start
" will put this calculated BPM information to the beginning of Tempo Track (The beginning of the project), the downmost button "
At Selection Start
" will put it to the beginning of the Range Selection. The tempo track and all info stamped to it will remain untill the point where the Range Selection starts.
Have any questions? Any other functions that you want to understand or learn?
Don't hesistate to contact via comments then ;)